ELECTRIC DRIVE UNIT PRODUCT LINE
#POWER ON DEMAND #ENERGY DENSITY
Electric Drive Unit (EDU)

An advance compact actuator with high lift forces
The EDU is an electro-hydraulic system that combines a hydraulic pump, a cylinder and an electric motor. With this high power-dense system, it is possible to vary load and velocity in either direction, independently of each other. The system only needs an electric power connection to function. It was designed for applications where precise adjustment at variable loads and/or velocities is required.
Ease of Installation
Only electrical power supply is needed for easiest installation
Safe Operation
Overload protection avoids damage to interface systems
Proven Quality
Time-tested robust design is built for maximum performance and longest life
Lower Risk of Contamination
Self-contained design ensures protection from outside contaminants
Environmentally Friendly
Less energy consumption, high efficiency
Zero Maintenance
Proven high quality, long life, high endurance
INFO MATERIAL FOR DOWNLOAD
Applications in the Medical Industry

High performance anytime, anywhere
Perfect solutions for Emergency Stretchers

Easily lift patients over 770 lbs /350 kg

Extreme power dense (14.4 kN)

Smart design: lightweight, n

o hoses, easy to install

Controllable velocity, independent of the load 

Fast, quiet & smooth operations for paramedics and patient comfort 

IP Class IP54 or IP40
Applications in Other Industries
Smooth operation for lifting purposes
Our multiple configuration options allow the EDU to perfectly fit in multiple applications. A soft start-stop feature ensures comfort and safety. This high power-dense system makes it possible to fully control the acceleration and velocity even under the heaviest loads. 
Smart solution for: powered lift tables, powered scissor tables, automotive lift equipment, power dock leveler, light duty dump trailer, surface preparation equipment (floor scrappers)

Easily lift over 770 lbs /350 kg

Extreme power dense (23 kN)

Integrated overload safety




IP Class IP69K




EDU Technical Specifications
Technical Specifications - Medical Industry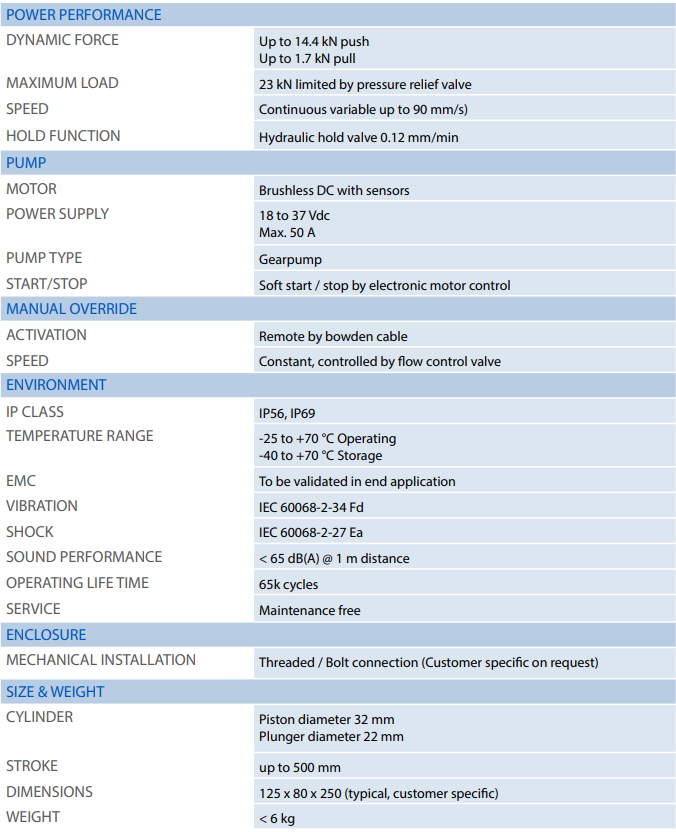 Technical Specifications - Other Applications
Why choose us
Global trusted advisor of innovative motion control solutions